Facebook has recently announced and launched it's new logout system, i.e Facebook remote logout.  This Facebook logout system is basically a logout security system that helps allows users to see all of the active login sessions for their Facebook account login.  Remote Facebook logout system is actually really simple and here are few steps on how to remote logout from facebook.com.
For, Facebook users who are anxiously waiting to know about the new remote logout security feature. Here is what you should know first. Previously, Facebook started off with a logout security system which would ask you to register for your login system if in case you would have wanted to sign to your Facebook login account via a different platform, simultaneously.  (For example: If you are logged into your personal computer but later wanted to log into www.facebook.com via  a different computer/mobile. You would have to register the chosen platform, if you don't have your work computer/mobile Facebook registered,  and then you would finally get an email saying a new device has used your account. This security act which  was implemented on may of 2011 which would notify the users if someone other then the actual Facebook login homepage holder uses the account.
But, now with the implication of the new  Remote logout system of facebook, users can easily see their logged in sessions. This log off remote system now allows users to instantly end the unwanted sessions with a single mouse click. So, here is how you could protect your Facebook account and remote logout with one simple click:
The very first thing to do after you login Facebook, to remotely logout of www.facebook.com. Go to your Facebook login homepage,  on the right top corner of your Facebook login screen you will see a drop down menu besides the button named "Home".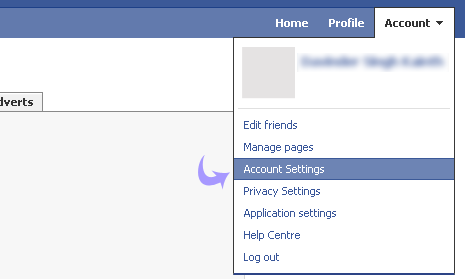 Go to, account settings and then to the security settings options. You will then be lead to a page which looks like this shown below in the picture, at the bottom of the menu screen you will then see a button named "Active Sessions" under which you will see all of your Facebook logged in sessions, if you see any unfamiliar devices or locations, click 'End Activity' to end the session and logout Facebook with a simple click.
Share and Enjoy